Krysta made the decision to become an organ & tissue donor in h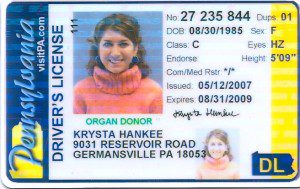 igh school. Having the organ donor designation on her license made her wishes clear.  Not knowing her wishes would have made the process very difficult.  Many families say no to donation because they are not aware of the wishes of their loved one.  Visit Gift of Life Donor Program to learn what you need to know, make your decision and inform your family of your choice.   We would ask everyone to take the time to discover the great need for these Gifts of Life.   We have had the opportunity to meet organ recipients and witnessed how thankful they are for this final heroic act of Krysta and others like her.  We are very proud of Krysta for giving the last measure of what she had to offer in her final moments.  We are comforted that some small part of her existence lives on.

The Facts About Organ & Tissue Donation & Transplantation
Every day in the United States, an average of 22 people die waiting for organ transplants. During the past 10 years, the transplant waiting list has more than doubled with more than 123,000 men, women, and children now needing heart, kidney, liver, lung, pancreas and small intestine transplants.
More than 6,000 people await transplants in the Gift of Life Donor Program service region alone. Tens of thousands of others need corneas to restore sight, bone and other tissues to repair injured or diseased bones and joints, skin to heal burns, and the heart valves to replace diseased ones.
One donor has the potential to save & enhance up to 50 lives & take up to eight people off the transplant waiting list.
85% of the population supports organ donation, including strong support from health care professionals and virtually all organized religions, though less than 30% have actually signed a donor card or discussed the issue with their families.
Of all the deaths in the United States, only 1-2% have the potential to result in organ donation. Unfortunately, only about 50% of those individuals actually donate. If everyone who could donate said yes, the waiting list for transplants would be greatly reduced.
ONE DONOR CAN:
Donate kidneys to free two people from dialysis treatments needed to sustain life.
Save the lives of patients awaiting heart, liver, lung or pancreas transplants.
Give sight to two people through the donation of corneas.
Donate bone to help repair injured joints or to help save an arm or leg threatened by cancer.
Help burn victims heal more quickly through donation of skin, and provide healthy heart valves for someone whose life is threatened by malfunctioning or diseased valves.
For more information visit the Gift of Life Donor Program website.
Visit DMV – Organ Donor to find out how to become an organ donor in Pennsylvania.